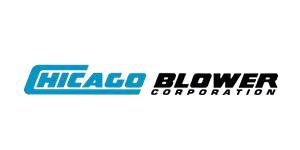 FOR IMMEDIATE RELEASE
November 1, 2018
Memphis, TN – Jim Robbins & Associates has been named an exclusive representative for Chicago Blower products. Chicago Blower offers dependable industrial fan solutions and their product offerings compliment the rest of the offerings from Jim Robbins & Associates. The partnership strengthens Jim Robbins & Associates position as a leading manufacturer's rep in Tennessee, Arkansas and Northern Mississippi, and customers now have a leading option for their industrial air-handling needs.
Chicago Blower is an industrial fan and blower manufacturer with more than 70 years of experience. In 1952 Chicago Blower became the first fan company to design and sell a centrifugal fan with an airfoil blade, and they have been setting the industry standard ever since. Jim Robbins & Associates President Walker Robbins said he was thrilled to offer products from such a prestigious company, and that they would offer an ideal solution for industrial customers.
Chicago Blower meets all five criteria that Jim Robbins & Associates uses for its line of equipment manufacturers: cost, quality, timing, flexibility, and service. "With Chicago Blower, we now represent a very experienced manufacturer with an excellent product line," Robbins said. "This allows our customers to benefit from their high-quality products and cost-effective solutions. All of this can be tailored to customer need, with excellent customer service and short lead times."
Chicago Blower National Sales Manager Chris Daniel said that the deal is a natural fit as the company looks to expand its geographical reach. "Chicago Blower is excited to partner with Jim Robbins & Associates to strengthen our extensive product line offering in the south, and we look forward to working with Walker Robbins and his team to exceed our customers' air-handling needs while reducing energy usage and sound."
Chicago Blower equipment offered to Jim Robbins & Associates customers include: Fans and blowers, Vaneaxial fans, Radial tip fans, Industrial exhausters, Backward inclined fans, Backward curved fans, Tubeaxial fans, Pressure blowers, High temperature fans, Airfoil fans, and Forward curved fans. Chicago Blower's equipment can be tailored to fit the customers' needs. This is important for Jim Robbins & Associates, who sits down to listen to the customers' needs before offering a solution.
About Jim Robbins & Associates
Since 1980, Jim Robbins has been a leader in bulk solids handling and air pollution control equipment. We serve clients in Tennessee, Mississippi, Arkansas, and Virginia. Our focus always has always rested on one thing: making every installation a win for the client. We want to reduce your costs, improve your process, and make sure that you meet your operational goals. We are now the proud exclusive representatives for 20 primary manufacturers, and we have a consistent track record of delivering high-performance, customized solutions.
About Chicago Blower
Chicago Blower Corporation has been designing and manufacturing pre-engineered and heavy-duty fans and blowers for over 70 years. Our privately held company was founded in February 1947 and has been growing ever since. What began with only four employees in a small Chicago factory grew into our vast Glendale Heights plant that is the center of CBC's operations where engineering, fabrication, testing, inside sales, accounting, purchasing, and marketing all work together to maintain our reputation for exceptional performance and reliability.
Contacts
Walker Robbins
President, Jim Robbins & Associates, Inc.
walker@robbinsassoc.com
901-726-1234
www.robbinsassoc.com
Chris Daniel
National Sales Manager, Chicago Blower
cdaniel@chicagoblower.com
630-791-5128
www.chicagoblower.com