Chicago Blower brings extremely high levels of engineering and quality to the crowded field of industrial fans. We offer Chicago Blower models for nearly all applications that require blowers and fans.
---
Backward Curved Fans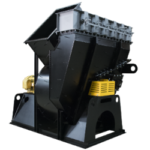 Backward curved fans are a type of centrifugal blower that handles moderate to high static pressure.
---
Backward Inclined Fans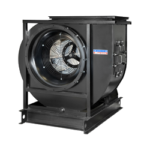 Backward inclined fans are also designed to handle high volumes of static pressure, and they do so with much less noise.
---
Radial Tipped Fans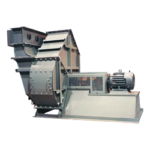 Move moderate to high volumes of clean or dirty air, with moderate to high pressure.
---
Industrial Exhausters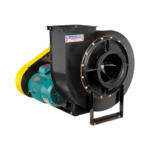 Industrial exhausters are high-efficiency units with rugged construction and long lifespan. Chicago Blower has models for air with light dust, as well as air filled with heavy, abrasive or sticky materials.
---
Pressure Blowers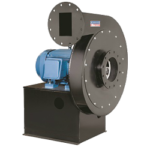 Chicago Blower has a wide assortment of high-pressure air blowers, including open radial wheel, shrouded radial wheel, and paddle wheel designs.
---
High Pressure Radial Fans
Available in open or shrouded design, Chicago Blower now offers extra wide wheels for high air volume, as well as optional abrasion-resistant components.
---
Paddle Wheel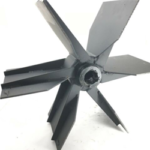 Paddle wheel blowers are intended for moving air with heavy dust or other contaminants at moderate to high static pressures. Chicago Blower's paddle wheel blowers can take on sticky or abrasive materials in harsh, demanding environments.
---
Material Handling Fans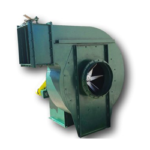 Chicago Blower has emerged as a leader in durable, high-performance material handling fans. Blowers are available to handle both light and heavy materials such as:
Sawdust and wood chips
Plastic pellets
Food products such as pet food
Metal alloys, metal scraps and carbon steel
---
Trim Handling Fans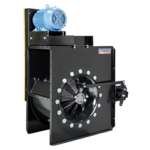 If you are removing edge trim you need specialized exhaust ventilation that will stand up to the materials you use. Chicago Blower offers two different wheel designs, multiple gusset and blade profiles, reinforced blades and extremely versatile customization options.
Suitable for all types of materials including:
Metal edge trimming
Paper and cardboard
Plastics
---
Oven and Furnace Fans
High quality industrial fan systems for furnaces, oven exhaust and oven recirculation. Options available for both forced air and induced draft air in ovens, furnaces, boilers and heaters of all kinds.
---
Plug Fans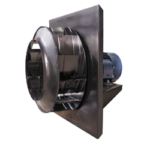 Plug fans are used to circulate air within a specific environment, with no ductwork needed. Chicago Blower's offering includes multiple wheel designs and material options to match the temperatures and specs you need.
---
See It for Yourself
Want to see how Chicago Blower's equipment really runs—and what it can do? Contact us to test out our demo equipment for yourself.