Cyclonaire got its start making systems for cement and heavy products, but now sets industry standards for pneumatic conveying and product transfer for just about every kind of product. We love Cyclonaire because almost every piece of equipment is easy to automate and easy to customize—let us know how we can tailor your Cyclonaire system to your needs.
---
Dense Phase Pneumatic Conveying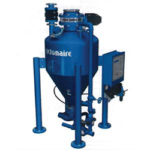 Pneumatic conveyors for dense phase product generally do not suspend the product in the airstream. Instead, a lower-speed system will use pneumatic pressure to "slide" the product along to its destination. Appropriate for fragile, friable and abrasive materials that should not be subjected to high pressures. Cyclonaire's dense phase conveyors work for both low-rate and high-rate transfer.
---
Semi-Dense Phase Pneumatic Conveying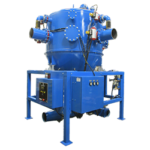 Semi-dense conveying is for materials that are "in between" dense and dilute. In other words, the product should be aeratable and will be partially suspended in the airstream, but it's appropriate for friable or abrasive materials—things like fly ash or cement.
---
Dilute Phase Pneumatic Conveying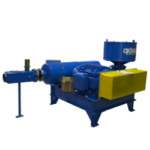 Dilute phase pneumatics are used for non-abrasive materials that can be fully suspended in the airstream. The product will stay suspended without settling out at any point in the line, and will get "blown" or sucked to its destination. Conveying velocities are faster than semi-dense. Flour is an example of a product that works ideally with dilute phase pneumatic conveying.
---
Industrial Bulk Handling Automation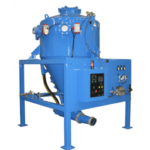 Cyclonaire offers industry-leading hardware and software to automate the product handling process, including not just conveyors but your dust systems and more.
---
Bulk Bag Unloaders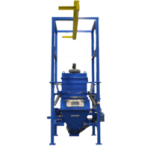 These are some of the most customizable and versatile bulk bag unloaders we've found. Rugged and durable, they can be equipped with an electric hoist, tensioners, massaging paddles and much more.
---
Bin Flow Promotion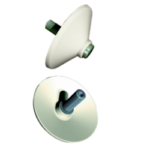 Inefficient bin flow slows down product transfer from bins, hoppers, and silos—and costs money. Cyclonaire has simple, cost-effective air flow aeration systems such as their customizable VibraPad line.