Hi-Vac is often our first recommendation for industrial vacuum equipment, whether for cleaning to transport product—both wet and dry. Their systems stand up to tough materials including slurries, sand, liquids, dust and aggregates. They're simply a superior piece of equipment.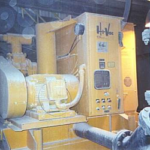 There are two key features that set Hi-Vac apart:
The Hi-Vac Powerhead. This is the heart of the beast. The Powerhead comes to life with a high-efficiency, positive-displacement blower—a design that delivers a lot of power for a very low horsepower and energy cost.
Three-stage filtration. Part and parcel of the Powerhead is one of the world's most precise filtration systems. The stages combine centrifugal separation, linear separation, and cloth dust collection—a setup that allows for combined wet and dry material pickup.
Add to this the modular customizability of Hi-Vac products and you have a single Powerhead design that can do almost any application.
---
Portable Industrial Vacuum Cleaners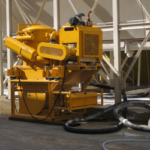 Hi-Vac offers several lines of portable vacuum cleaners from the smaller 200- and 300-series to the rugged 800-series, all priced to move. All models are available on a simple steel support stand or on wheels. Either version can be moved as a single unit.
---
Stationary Industrial Vacuum Cleaners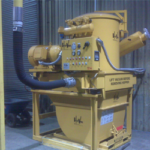 Extreme versatility. These standalone systems can be adapted for almost any purpose, and when hooked up to a piping system, they can supply central vac or be used for pneumatic conveyance. All Hi-Vac stationary units are equipped with a suite of instruments and controls for product protection.
---
Central Vacuum Cleaning Systems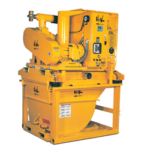 Central vacuum makes cleanup easy throughout your plant and reduces the need to move around portable units—which is cumbersome when responding to spills. Central vac can be supplied by one or more Hi-Vac Powerheads with a custom manifold piping system.
---
Mobile Industrial Vacuum Cleaners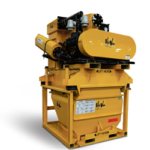 You can add a trailer or mobile package to virtually any of Hi-Vac's industrial vacuum cleaners, allowing you to deploy even heavy-duty models as you see fit.
---
Truck Mounted Industrial Vacuum Cleaners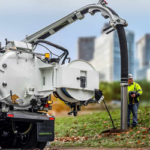 What better way to deploy heavy-duty industrial vacuum equipment? Part of Hi-Vac's modular design is easy customization for truck-mounted use.