Rapat is one of our most trusted manufacturers for bulk handling conveyors, especially for the industrial and agricultural industries. Rapat produces structured-steel conveyance systems that keep performing for the long haul—even after decades of abuse. Customized or standard models are available.
---
Belt Conveyors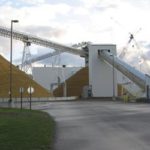 It would be hard to find a more impressive lineup of belt conveyor options. Rapat offers trussed-frame conveyors that can reach very long span lengths, channel-frame and enclosed conveyors, and a variety of other smaller and purpose-built conveyors. Each one is made with the same rugged engineering, CEMA standard components, and smart design for minimal maintenance needs.
Walkways, service platforms and other features can be easily added to any conveyor.
---
Enclosed Belt Conveyors
Enclosed belt conveyors continue to be a must in the agricultural sector and many other industries. Rapat more than delivers, with CEMA troughing, self-cleaning components, superior weather-tight enclosures, and a variety of customizable features. Rated for industrial duty.
---
Flexwall Belt Conveyors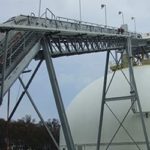 This is the ultimate solution for moving materials at steep angles and high throughput. The "Flexwall" or FLX series is a corrugated sidewall belt conveyor that can move products at angles up to and including 90 degrees. The design maximizes capacity and minimizes product damage, and is suitable for everything from abrasive materials to glass product and pellets; powders to gravel. Each Flexwall conveyor is custom designed for your specific use case.
---
Heavy Duty Bucket Elevators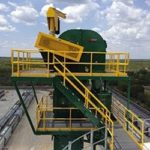 Rapat offers industrial duty bucket elevators with each section chosen for your application. Spiral stairs, service platforms and jib cranes can all be added on with a support tower.
---
Drag Conveyors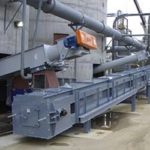 Rapat's "D" series represents one of the heaviest-duty, most reliable drag conveyors in existence. With tank-like, welded and forged steel sprockets and chains, and a variety of chain styles available, your conveyor will be customized for your use case and will more than stand up to your heaviest product. You have to come try out this piece of equipment to appreciate its powerful engineering.