Established in 1856 and still operating at the same location, S. Howes is a global leader in mixing, conveying, size reduction and classifying equipment. The company continues to build on its knowledge of mechanical engineering and manufacturing best practices. S. Howes uses modern manufacturing techniques to manufacture its engineer-to-order product lines. Quality has been the focus for generations. S. Howes products are built to last. In fact, some of the S. Howes equipment in use today is well over 75 years old. Today, S. Howes offers to its customers: mixers & blenders, screw conveyors, separators, size reducers, grain cleaners and pressure leaf filters for a wide variety of processing industries. Our customers hold us to a high standard and include family owed businesses, multinationals, Fortune 500 companies, engineering companies and equipment contractors.
---
Ribbon and Paddle Mixers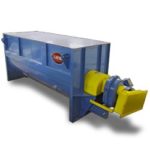 Our proven design provides a superior uniform mix, complemented by a robust construction.  Mixing is accomplished using either a ribbon or paddle agitator. The S. Howes Double-Ribbon Agitator, with the original reverse-spiral design, delivers uniform, high-capacity blending at low power cost. The mix is held in constant suspension providing for excellent uniform mix of the product. Paddle assemblies mix using a tumbling motion and have less product shearing during the process. Used by many of the World's leading pharmaceutical and food companies, S. Howes' blenders produce a superior uniform and consistent mix. Versatile for almost all industries, our mixers are designed for strenuous industrial usage. Extra heavy gauge steel is used for the tank and end-plates, and powerful, heavy-duty drives and are used to ensure years of reliable operations. Over 16 standard models are available from 6 to 419 cu.ft. (3/4 full). Custom models available up to 1,500 cu.ft.
---
Pug Mill Continuous Mixers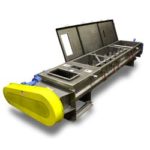 S. Howes Paddle Mixers (pug mills) provide continuous, uniform mixing of liquids and dry ingredients. Two types of paddle mixers are available in 10 standard models: Simplex (single agitator shaft) and Duplex (double agitator shaft). Capacities range from 5 to 40 tons per hour. Custom designs for higher capacities are also available. The mixing action of the patented adjustable loop-type or solid paddles on the agitator shaft is gentle and free-flowing, and coats product with additives without beating or shearing the mixture. Great for adding liquids to dry materials to make slurries and semi-liquid mixtures. Food grade and industrial paddle mixers are available.
---
Screw Conveyors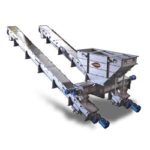 Mechanically convey dry, free flowing and sluggish materials with ease of cleaning without tools. Most conveyors are custom designed, however standard models are available. Built to handle most non-liquid materials and are significantly more robust than flexible tube conveyors. The S. Howes engineering staff will design conveyors to your meet your conveying and/or processing requirements.  S. Howes has designed and built thousands of conveyors, nearly all of which have unique designs and specifications, including: dewatering conveyors, heating/cooling conveyors, mixing conveyors, drying conveyors, etc.
---
Size Reduction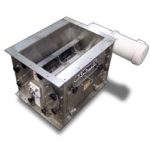 S. Howes offers several unique machines for specialized size reduction applications. The Power Grater consists of a dust tight casing containing a paddle assembly that gently rubs the product to be reduced against a formed grating screen for clean, efficient reduction. Low paddle speeds of approximately 88 RPM for single speed models result in less fines.
Fast uniform cutting is accomplished in the Knife Cutter by a series of rotary and fixed bed knives. A sizing screen is used to prevent oversized product from leaving the cutting area until the desired size has been obtained. Five models are available. A single compact machine constructed of steel that introduces efficiency to cutting and sizing.
The "Eureka" Granulator was designed and manufactured by S. Howes for the agricultural industry during the 1970's and since has been modified to handle numerous non-agricultural products as well. The granulator is affordable, effective and built to last. The material is cut between the offset rings that rotate at approximately the same speed. Centrifugal action forces the material outward between the cutter rings which shear it to size and eject it immediately. This unique action creates less fines and a clean sharp product.
---
Screening and Separating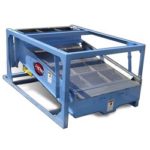 Snappy Shakers are used for high-intensity screening, cleaning and/or sifting. Ten models are available with single, double or triple deck configurations. Screening capacities range up to 50 tons per hour.
Snappy Air Finishers are used for high-intensity screening, cleaning and/or sifting – and are enhanced by aspiration. Nine models are available with single, double or triple deck configurations. Screening capacities range up to 25 tons per hour and 3,200 CFM.
S. Howes Grain Cleaners are world renowned. Having manufactured tens of thousands of grain cleaners since our inception, S. Howes has perfected the process. With outstanding efficiency, our cleaners remove fines and oversized particles by means of precision screening and air aspiration.