Thomas Conveyor is one of the largest custom screw conveyor manufacturers in North America. As an active member of the Conveyor Equipment Manufacturers Association (CEMA), Thomas Conveyor is always up-to-date with the latest engineering and manufacturing techniques. Our screw conveyor systems are available in a wide variety of materials resistant to corrosion, abrasion, and heat. We offer conveyors for use in horizontal, inclined, and vertical applications. Our screw conveyor systems are designed to meet and surpass all application requirements.
---
Screw Conveyors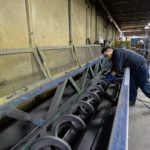 Thomas Conveyor manufacturers screw conveyors as small as 4 inches in diameter and up to 120 inches in diameter, with material thickness up to 1-1/2 inches. Our reputation for engineering and technological expertise in state-of-the-art screw conveyor systems is well deserved. We understand the intricacies of conveying material horizontally, at an incline, and vertically with conventional, shaftless, and high-temperature equipment. Thomas can handle any application requirements; unique flight configurations plastic flight conveyors, shaftless flighting, and multiple screws in a live bottom system are just a few of the many solutions available to our customers. Also offering, Ribbon Flight Conveyors which consist of sectional flights, butt-welded to form a continuous helix. Ribbon flight conveyors are used to convey tacky, gummy, or viscous substances, or in applications where the material tends to adhere to the flighting and pipe.
---
Drag Conveyor Systems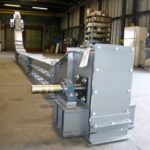 Our Drag Conveyors accommodate a wide range of applications. From round to flat bottom drags, including 'L' and 'S' path designs, we can meet your most challenging specifications. Our standard drag conveyors can reach 64,000 CFH of efficient operations, and our custom capabilities can extend to capacity ranges well beyond that volume. Thomas offers Flat-Bottom as well as Round-Bottom drag conveyors
---
Bucket Elevators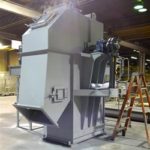 Because one type of bucket elevator cannot possibly satisfy every elevator application, Thomas offers systems ranging from the more economical grain type to highly specific abrasion-resistant elevators. Our largest standard system exceeds a capacity rating of 20,000 CFH. For capacities beyond that level, Thomas provides custom elevators.
---
Belt Conveyors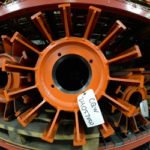 We offer a range of belt conveyor pulleys from our Heavy Duty – Standard, Mine Quarry and even an engineered Duty to meet the needs of any belt conveyor system. Our belt conveyor pulleys, idlers, take-ups / bearing, shafting and bushing / shaft locking devices allow us to meet any belt conveyor system with a 'ready to install' pulley assembly. Our capabilities to manufacture engineered pulleys, T-Bottom drums, spiral wings, our new 'Clean Flight pulley' are only the beginning of our valued solutions.
---
Screw Conveyor Components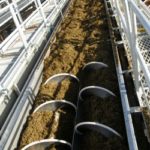 We stock a comprehensive range of standard screw conveyor components for quick turnaround of your component needs.