Vortex is a solutions-driven manufacturer of solids and bulk handling equipment, and they have been innovating superior approaches to product handling since the 1970s. Most valves for bulk solids are applications are really just basic adaptations of solutions for liquids or gas. These "easy fixes" don't always perform well with the material characteristics of bulk solids. Vortex is an exception—they have devoted their engineering to developing specialized, high-performance bulk solids valves and gates. Vortex is also known for is innovative, cost-effective loading and aero slide solutions. Vortex's equipment helps you control dust, reduce product loss and maximize throughput. They are our first pick for most most solid handling processes.
---
Slide Gates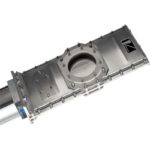 Slide gates are a simple, effective way to control product flow—one with few moving parts and high reliability. Vortex has a wide variety of offerings for gravity flow and pneumatic applications. Vortex plays up the inherent ruggedness of the slide gate concept with an emphasis on making maintenance possible without removing the gate from the line.
---
Iris Valves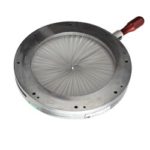 This patented Vortex innovation is perhaps the most elegant approach to controlling free-flowing bulk solids in gravity discharge. Stainless steel, trigger-locked and smooth every time it opens or closes. A dust-tight seal comes standard on every iris valve, conserving your product.
---
Diverter Valves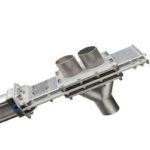 Diverter valves are used for a wide variety of applications and Vortex has specialized models to match any use case.
---
Do butterfly valves work with bulk solids?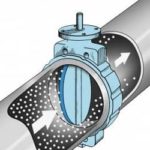 Butterfly valves work well in applications with liquid or gas, but in bulk solids handling, they cause problems. A butterfly valve is a very simple valve design, where a round disc inside the pope rotates open or closed to control the product stream. However, the disc does not move out of the way once open—it remains inside the pipe and in the stream. This causes several distinct problems:
The disc itself serves as a blockage and slows down the stream of dry solids. This either reduces throughput or necessitates a wider-diameter pipe, adding cost to your operation.
The disc cannot easily displace solids when it rotates to the closed position, leading to an improper seal or difficulty closing the valve.
Unlike liquids or gases, bulk solids will "sandblast" or abrade the disc itself, causing a weaker seal over time.
Vortex recommends against the use of a butterfly valve for bulk solids handling, and we agree. Their slide gates, diverter valves and iris valves are differentiated solutions that offer superior performance with bulk solids.
---
Dustless Loading Spouts
Loading spouts are a must in many industries but dust control is always a concern. Vortex has met this problem head-on, engineering their spout systems specifically to capture fugitive dust for a "dustless" pour. The result is less product waste and improved safety—with a wide variety of options.
---
Loading Spout Filter Systems & Dust Collectors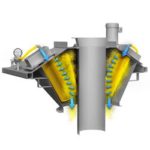 These spout-based filtration systems do more than just capture the fugitive dust that kicks up from any product pour. They actively deposit that dust back into the product stream, making sure it gets to its intended destination. The result is a near zero-loss system that makes your operation run clean.
---
Loading Spout Positioners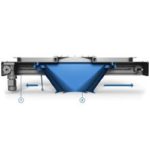 Positioners speed up loading of any truck or railcar. They work together with standard loading spouts and allow you to start a pour even if the truck/railcar is not perfectly positioned—without moving it. Can be used for single- or double-axis loading spout placement, fully customizable to meet your project specs.
---
Aero Slides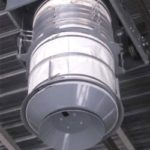 Vortex clearly took a look at on-the-ground industry needs when designing their retractable aero slides, because these are simply the most functional and effective aero slides we've seen. Available in two custom lengths, they feature strong bar grating to support the slide media (not bar grating). There are separate ports for air supply, inspection, and easy clean-out.
Have questions about any of our Vortex equipment? Want to see how it would work for your use case? Just give us a call and let our team help you. Contact Jim Robbins & Associates today.